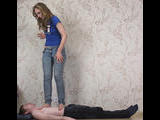 - Brutal trampling and multitrampling under sweet weight of the beautiful girls.

- Barefoot trampling, stockings trampling, boots trampling, sneakers trampling, high-heeled sandals trampling and etc.

- A lot of tall and heavy gorgeous girls with big feet.

- We make trampling video, Giantess POV, foot modelling, shoes dangling, boots domination, foot worship and more...

- All our video contain English subtitles or models speak English.

- Full HD 1920x1080 in memer area and Ultra HD 3840x2160 in videostore area.